Oregon High School Equestrian Teams
is a great opportunity before you! You have taken the first step. Our goal is to help you to be a part of our High School Equestrian athletic program!! This Equine program is for High School Students who want be challenged, build character and do the sport they love . . . .
Read More
Coaches and Advisor Training
2019-19 Season Coaches and Advisors Training

Saturday, November 17, 2018
Roseburg High School
400 W. Harvard Ave.
Roseburg, OR
Questions? Contact Candi Bothum at cbothum@ohset.com
Download the
Flyer
. Lunch is provided.
Raffle Winner
Congratulations to Jayme Campbell for winning the Raffle this year.
American Youth Horse Leaders Symposium
In 2018, this event will be held in Oklahoma City, OK on April 12 - 15, 2018.
Recipients of this award will receive all conference fees paid, a portion of transportation, lodging, and food expenses.
How much of each is dependent on how many awards are given and where the event is located. This year $1,250 per athlete for up to 2 athletes, and OHSET will provide a chaperone. This will not cover all costs, be prepared to do some fundraising on your own to help cover cost.
For those wishing to apply for this opportunity, please
Click Here
for the application and instructions.
Become a Sponsor
Oregon High School Equestrian Teams, Inc. is on track to support athletes and their equine partners for another 20 years. You may be familiar with OHSET or learning about it for the first time.
If you enjoy horses and are supportive of extra-curricular activities for youth, you may want to consider supporting OHSET through a donation or sponsorship.
Keep in mind, no donation is too small and OHSET can also benefit from donations of services and products. As a nonprofit organization, your contribution to OHSET may be tax deductible (please check with a tax advisor for more information).
Click Here
for more information.
Support OHSET when you Shop!
Fred Meyers Shoppers
You can help OHSET earn donations just by shopping with your Fred Meyer's Reward Card. Fred Meyer is donating $2.5 million per year to non-profits in Alaska, Idaho, Oregon and Washington, based on where their customers tell them to give. [
Click Here
] for the details!
Amazon Shoppers
Amazon will donate 0.5% of the price of your eligible AmazonSmile purchases to Oregon High School Equestrian Teams Inc whenever you shop on AmazonSmile. Just use this link to sign up and shop -
https://smile.amazon.com/ch/93-1238799
Article about OHSET Championship
This article was published on Equis Feed's Website - "OHSET State Championships: A story of sportsmanship overcoming adversity"
Click to View Article
.
OHSET thanks Coastal Farm & Ranch for your support and sponsorship!
Get News and Notices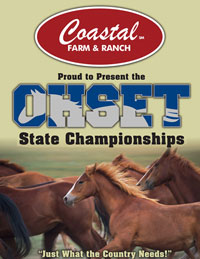 Mark Your Calendar. . . [View All]
Coaches Training
Nov-17-2018
9:30 am - 5:00 pm; TBA - Roseburg
RSVP cbothum@ohset.com (Lunch unsure till fall)
Annual Meeting / Board Meeting
Dec-08-2018
TBA

Willamette District Meet #1
Jan-10-2019 to Jan-13-2019
Linn County Fairgrounds, Albany
[
Website/Info Link
]
State Board Meeting
Jan-12-2019
10 am - Willamette Education Service Building
2611 Pringle Road SE, Salem OR 97302
North Valley District Meet #1
Jan-17-2019 to Jan-20-2019
Linn County Fair & Expo - Albany

Save the Date
Future State Championship Dates:
May 10-13, 2018
May 9-12, 2019
May 7-10, 2020
Minutes
District Maps