Oregon High School Equestrian Teams
is a great opportunity before you! You have taken the first step. Our goal is to help you to be a part of our High School Equestrian athletic program!! This Equine program is for High School Students who want be challenged, build character and do the sport they love . . . .
Read More
Future State Championships
Here are the dates for the next 3 years. Please note that they have been moved up a week earlier.

May 12-15 2016
May 11-14, 2017
May 10-13, 2018
Article about OHSET Championship
This article was published on Equis Feed's Website - "OHSET State Championships: A story of sportsmanship overcoming adversity"
Click to View Article
.
2015 Scholarship Winners
This Years Scholarship Winners are:
Central - Lauren Walley
North Valley- Brittany Scott
North West- Shannon Corkran
Southern - Paige Morales
South Valley - Erica Henry
Tri-River Valley - Naomi Sakaguchi
Willamette - Medelen Dewar
Support OHSET when you Shop!
Amazon Shoppers
Amazon will donate 0.5% of the price of your eligible AmazonSmile purchases to Oregon High School Equestrian Teams Inc whenever you shop on AmazonSmile. Just use this link to sign up and shop -
https://smile.amazon.com/ch/93-1238799
Fred Meyers Shoppers
You can help OHSET earn donations just by shopping with your Fred Meyer's Reward Card. Fred Meyer is donating $2.5 million per year to non-profits in Alaska, Idaho, Oregon and Washington, based on where their customers tell them to give. [
Click Here
] for the details!
Helmet Requirements
There have been some questions raised about helmet use requirements at "NON" OHSET events. Remember, our rules and insurance govern OHSET events (not OHSET attire). So, helmets are required while riding or driving at:
» Any OHSET event.
» At any event raising funds for OHSET.
» At any event OHSET money was used to pay entry fees for.
» At any event that a coach or advisor said, "this is going to be our ____ practice;" as in cattle practice, gaming practice, etc.
» At any event where coaching from an OHSET coach is happening with OHSET athletes. While any ER Doc would tell you to wear your helmet when you ride at all times, OHSET does NOT require it: When you are at an event not covered above, like a gaming play day or Open horse show.

What athletes are wearing doesn't matter. Use common sense, if there is some question about if it's an OHSET event, error toward wearing helmets. They can wear their garb anywhere, helmets or not.
Website Update
>>> Equis Feed Article
>>> Scholarship Winners
Get News and Notices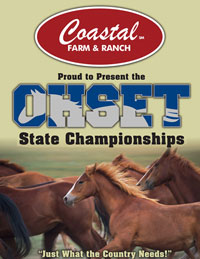 Mark Your Calendar. . . [View All]
State Board Meeting
Oct-10-2015
Rules 1:00 and Board 2:00 - Red Lion in Salem

Coaches and Advisors Training
Oct-17-2015
Deschutes County Expo Center, Redmond
9:30 am Registration, 10 am Start
District Chair/Vice Work Session
Nov-07-2015 to Nov-08-2015
Place and Time TBA

State Board Meeting
Nov-21-2015
9:30 AM, Location TBA
Rules #2 approx. 1 pm
Rules Meeting #2
Nov-21-2015
1:00 PM, location TBA
this follows the State Board Meeting
Minutes
District Maps