Oregon High School Equestrian Teams
is a great opportunity before you! You have taken the first step. Our goal is to help you to be a part of our High School Equestrian athletic program!! This Equine program is for High School Students who want be challenged, build character and do the sport they love . . . .
Read More
New Event
This is not an official event this year, but its for fun at districts! - Check out "Team Versatility, an Event in Evolution" in our
events/patterns
page.
American Youth Horse Leaders Symposium
In 2017, this event will be held in Wakefield, Massachusetts on April 21-23, 2017.
Recipients of this award will receive all conference fees paid, a portion of transportation, lodging, and food expenses. How much of each is dependent on how many awards are given and where the event is located.
This year $1,000 per athlete for up to 2 athletes, and a chaperone is available to youth who wish to attend. This will not cover all costs, be prepared to do some fundraising on your own to help cover costs. Those who wish to apply here is the link to the application -
Click Here
Final Patterns are posted
The patterns are posted, these are final patterns.
Click Here
for Pattern Page.
Pattern Questions - please contact patterns@ohset.com
Downloading Questions - please contact website@ohset.com
WARNING
Check the date
on pattern in the lower left corner. Sometimes browsers will store old pages and bring them up, because it increases your browser speed. So you might see an outdated pattern.
If the date is not correct then click refresh/reload.
Cleaning your temporary internet files will help also. If you still are seeing an outdated pattern then contact Kim at website@ohset.com
Support OHSET when you Shop!
Fred Meyers Shoppers
You can help OHSET earn donations just by shopping with your Fred Meyer's Reward Card. Fred Meyer is donating $2.5 million per year to non-profits in Alaska, Idaho, Oregon and Washington, based on where their customers tell them to give. [
Click Here
] for the details!
Amazon Shoppers
Amazon will donate 0.5% of the price of your eligible AmazonSmile purchases to Oregon High School Equestrian Teams Inc whenever you shop on AmazonSmile. Just use this link to sign up and shop -
https://smile.amazon.com/ch/93-1238799
Become a Sponsor
Advertise in our Rule Book
.
Click Here
for prices. Form, payment, and ad must be sent in by Nov 15th.
Article about OHSET Championship
This article was published on Equis Feed's Website - "OHSET State Championships: A story of sportsmanship overcoming adversity"
Click to View Article
.
Future State Championships
Here are the dates for the next 3 years. Please note that they have been moved up a week earlier.

May 11-14, 2017
May 10-13, 2018
2016 Scholarship Winners
Scholarship Winners are:
Tyler Ruth (Central), Allison Byrne (North East) Angeline Starrs (North Valley), Sheyanne Pedersen (North West), Peyton Hager (Southern), Sydney Nash (South Valley), Monica Holliday (Tri-River Valley), Alyssa Elms (Willamette)
OHSET thanks Coastal Farm & Ranch for your support and sponsorship!
Website Notices
Get News and Notices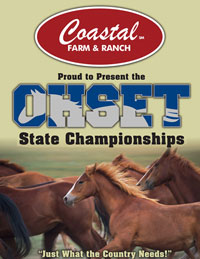 Mark Your Calendar. . . [View All]
Willamette District Meeting
Mar-01-2017
Elmers, Albany OR
6:30 pm
North East District Meet #2
Mar-02-2017 to Mar-05-2017
Oregon Equestrian Center, West Linn

North Valley District Meet #2
Mar-02-2017 to Mar-05-2017
Oregon State Expo, Salem

South Valley District Meet #2
Mar-03-2017 to Mar-05-2017
Oregon Horse Center, Eugene

North West District Meet #2
Mar-09-2017 to Mar-12-2017
Yamhill County Fairgrounds, McMinnville

Minutes
District Maps